Dr Umar Burney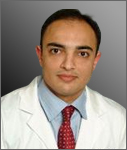 Dr Umar Burney was born in Madison, Wisconsin. His parents were both in teaching profession and they inculcated an importance for learning and education. Living abroad during his high school years, he had the unique opportunity to graduate with a Secondary Education Certification from the University of Cambridge, England. Being a life long badger, he returned to university of Wisconsin to complete his undergraduate degree in Medical Microbiology and Immunology with a special interest in "Communicative Diseases of the Third World".
Dr Umar Burney attended Saint George's University School of Medicine, Grenada and as voted member Iota Epsilon Alpha International medical honors society his sophomore year. He then completed his internship and orthopedic surgical residency at Louisiana State University Shreveport, where he received several awards for excellence in Basic Science Research and Anatomy. He served as chief resident twice his senior year after graduating from LSU; Dr Umar Burney completed a sports medicine/Joint replacement fellowship under the Tutelage of Drs. Leland Winston and Thomas Clanton at the University of Texas Houston Medical School. Dr. Umar Burney is a Board Certified Orthopaedic Surgeon.
Dr Umar Burney is married to Nazlee, an elementary educator, and they have three beautiful children, Zain, Maha & Nuha. In his spare time he enjoys reading, traveling running, and soccer.
Professional Societies :
American Academy of orthopedic Surgery
Arthroscopy Association of North America
American Orthopedic society for sports Medicine
Texas Medical Association
Texas Society of Sports Medicine
Dallas County Medical Society
American Association of Hip & Knee Surgeons
Staff Privileges :
Presbyterian Hospital of Rockwall
Lake Pointe Medical center
Dallas Regional Medical Center
TX Regional Medical Center Sunnyvale
Team Coverage Experience :
Houston Rockets (NBA)
Rice University Owls (Collegiate)
University of Texas at Dallas (Collegiate)
N. Forney High School